Tired of working from home or tired of working from home?
Many are at home in these difficult times. We are asked to get out as little as possible and the word quarantine has crept into daily use. You may approach it positively with thoughts like cozy and cozy, but when cozy and cozy are enforced it naturally becomes a completely different approach and loses power in its original sense. The reasons and the necessity will be more or less clear to everyone and we follow the rules whether we like it or not and whether we agree or not. But that's another discussion.
Happy home! Yes of course if you want. Lazy in the armchair, feet on the sofa, an ottoman as an extension of your seat and just lazily lay yourself down. Everything is going well until you're tired of it, because lying down for too long gives it the jitters and stings and then the fun goes away on its own. And with staying at home, working at home is suddenly brought into the public eye again. Keeping your distance is the message, stay away from the office so as not to sit on your colleague's lips. The message above all: avoiding infections. And so it was that one day we became homeworkers. And our school children got the letter "t" instead of homework and it became homework and going home became staying at home.
Heyday for networks and telephone companies. The Internet is glowing with activity because our knowledge, questions or secrets are constantly and frequently scattered around the world via the "net" left and right. At home and on the internet, we buzz around like bees in a hive and occasionally go out to the supermarket for some much-needed errands and then go home. Back to our homework and home work hive for living and working.
Our dining table is now also a work table, the side room or sewing room is now also a work studio or desk. The kitchen table is now a desktop for the PC and the meetings with zoom and skype and the rest of the "meet and greet" programs. British comedian James Corden told Oprah Winfrey this week that he sent his emails, tweets etc in the smallest room. Is that multitasking? The magazine rack must have been relegated back to the living room and each room shows its versatility for use and to the excessive.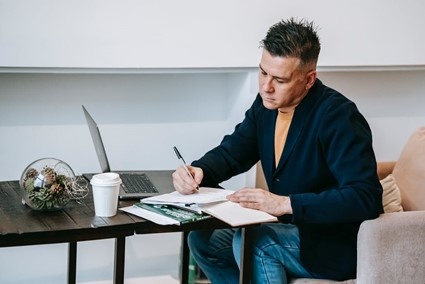 However, the sofa as office furniture, the kitchen worktop as a conference table and you name it, how long will something like this remain nice and practical? Don't you just want to cut vegetables on the counter and avoid resentment from crumbs on your keyboard? The advantage is that we are a bit more flexible in our actions. In between, put the laundry in the machine, iron a shirt. Doesn't that give a false sense of freedom in time management? Like a mayor in Flanders who did a TV interview via his computer. The man, neatly dressed, sat at his PC, the interview went smoothly and the interviewer complimented the mayor on his beautiful shirt. But immediately afterwards also asked why he was sitting behind his desk in stocking feet and in his underpants… It turned out that there was a mirror hanging behind his work table and in the viewing area of ​​his computer. Anyway, this was the mayor's homework outfit.
There is a group in work life that is used to working from home, whether or not just at the lounge or dining table. Others have a separate office, studio or practice. However, most of us who have to stay at home don't have that space available and have to make do with what the house offers them. And also what the circumstances offer them. My son didn't go to college but studies/works at home with loud music that you don't like but also disturbs your concentration in such a way that you don't get any further with your statistics or report. And before you start your meeting via the computer, you must first ask to lower the volume considerably. Or the couple both work from home. How do you try not to get in each other's way? One will probably do better than the other. But admit it, it takes some getting used to and your tolerance and respect for others is systematically appealed to. We are only human, aren't we?
Social contacts are reduced to, close by, one's own housemates and, at a distance, to social media. Everything is possible, everything works and usually in an efficient way too. But it also gives reason to think about it further. The emotional, the must, the spontaneity, are just a few things to address. But the exchange between the IT person and the marketer at the coffee machine also stays away. And I'm not talking about the gossip but about work and knowledge. The smile of compassion from your colleague because you just had a difficult customer on the phone, laughing together about a funny situation, the yappy feeling because together as a team a good deal works out.We are now partly rejected from this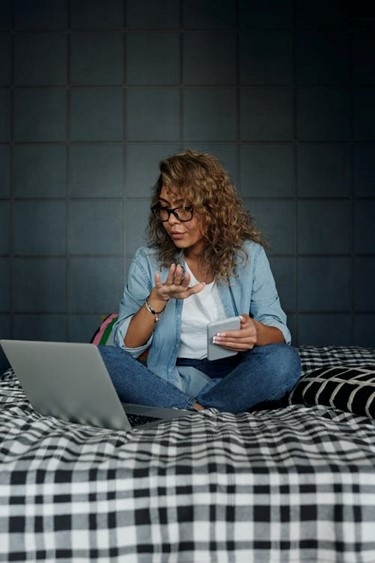 If I think back and reread my texts here, I think I'd rather swap my sweatpants for trousers and a shirt, divide home and work as two separate areas and travel time to and from home as acclimatization time use. I prefer the computer at the office and the cheese platter with a glass of wine in the living room, the desk chair at work and a comfortable corner sofa at home. That way it stays clear and clear, doesn't it?
You know. We are all familiar with the couch as a couch: Siegmund Freud had a couch for his clients/patients. Its origins seem to come from Persian, Urdu and Turkish. It distinguishes itself because there are no handrails (so easy as a sofa bed). In the Turkey of the sultans, the Council, the Divan, was in the meeting room on benches against the wall, and in the first half of the XIX century the word divan came to Europe. "Customs" also comes from the same word.
.
Leave a message